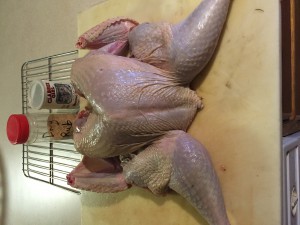 Smoked Turkey Spatchcock style
Tired of cooking your turkey the old traditional way. Have you ever thought of smoking your bird?
Today we walk you through the process of having that perfectly smoked Thanksgiving dinner.
I recommend you use a 10 to 14# bird, That will feed six to eight people. First thing we need to do is rinse it off and make a brine of one cup of kosher salt to one gallon of water.In large pan boil the water and add the salt stirring until dissolved.Cool down the brine in fridge. Place the bird in large enough pan or a cooler add the brine let set twelve hours.
Pull turkey from brine and rinse thoroughly.Pat dry and set in fridge overnight.
Now to make it Spatchcock style. Cut out the back bone and the wishbone and push down on the breast so it cracks and lays flat
Next morning oil up the bird and use your favorite dry rub. Smoke at 220 till internal temp reaches 155* this could take up to six hours. Let cool for twenty minutes and serve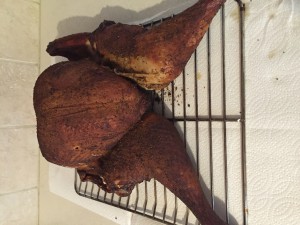 For more tips and tricks check out /backyardsmokedmeats
Hope to see you in the backyard
Follow rollanddall