how do you like your steak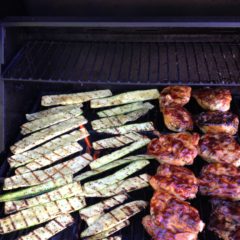 Thinking about smoking some Chicken on the grill?
First make a brine of 1 cup salt and 1 cup sugar and 3 tbs olive oil with 2 quarts of water. Soak 4# chicken breast,thigh,druns  in brine for two hours Pat dry with paper towel.
Make a aluminum pouch with four soaked apple wood chunks.place above flame with a small pan of water off to the side.Cook chicken skin side up away from flame for one and half hours or till internal temp reaches 168 degrees
See you in the back yard
Rolland
<!– Start of Amazon Publisher Studio Loader –>    <script>  window.amznpubstudioTag = "themeatsmoker-20″;  </script>    <!– Do not modify the following code ! –>  <script async="true" type="text/javascript" src="https://ps-us.amazon-adsystem.com/domains/themeatsmoker-20_af0a1699-cb8e-4705-ad12-d6152a3c553e.js" charset="UTF-8″></script>    <!– End of Amazon Publisher Studio Loader –>
Follow rollanddall